For my May 2017 Blog Post I wanted to write about rave wear and styling! 
I am in my 30's and I have been a little "raver" for as long as I can remember because this culture always allowed me to be myself – a colorful, funky, free and quirky girl! 
Rave culture has and will always symbolize free-spirited individuals who gather and loose themselves in music that accentuates heavy base, electronic / glitchy beats, dubstep, etc.
What is "Rave Wear"?
Rave wear and styling is often characterized by tighter fitting clothing (and the less you wear – the better) so you can easily dance to the fast-paced and lively beats that will drop! The use of neon colored and metallic fabrics in clothing, rave tutus and bras for women, rave bead jewelry (kandi), furry animal hats, LED light accessories, pasties, masks (and more) are all popular additions to rave wear attire.
Styling Your Rave Look
When it comes to styling your rave wear, I like to keep one phrase in mind – GO WILD! Part of what makes rave wear so much fun is that there are no rules nor boundaries! Rave culture is known for being "outside the box" and going against normal fashion standards. Many people like to pick a "theme" when styling their rave outfits, such as an anime character, aliens, rainbows or emoji prints, or they make a "political statement" with their rave wear, such as wearing an outfit that is decorated with marijuana leaf or flag icons, all of which are fun outfit ideas to explore!
I always recommend that no matter what type of fashion genre you are attempting to wear, always style for your unique body figure – just because everyone is wearing spandex shorties and a rave bra, does not necessarily mean you should. If you need help with styling for your body figure, please read my blog post, "You CAN Pull-off that 'Look'!" by clicking HERE.
To give you some ideas for styling your rave wear, below are a few pictures from my own rave-inspired adventures. The top picture, I designed my own costume to look like my version of a "Galaxy" – I am wearing a rhinestone studded bodice, a sparkling black rave tutu, sparkling jewelry from KandiKookiez, a "Galaxy Wolf" Hoodie from SpiritHoods.com and of course, my own jeweled flower crown design (jewels handmade by KandiKookiez) worn around the wolf hoodie because you can wear flower crowns with AND on anything!
The bottom, two pictures, I am wearing a rainbow crop top and skater skirt by Poprageous.com; sparkling rainbow jewelry from KandiKookiez, and my own Rainbow LED Cat Ears Headband design (the picture on the very bottom shows how this LED Headband appears when the LED lights are turned-on).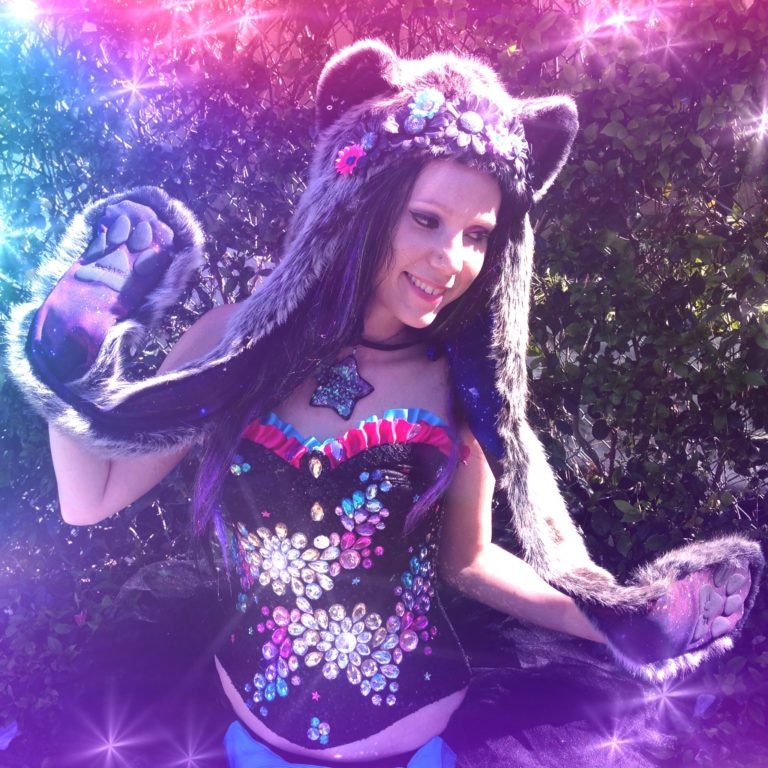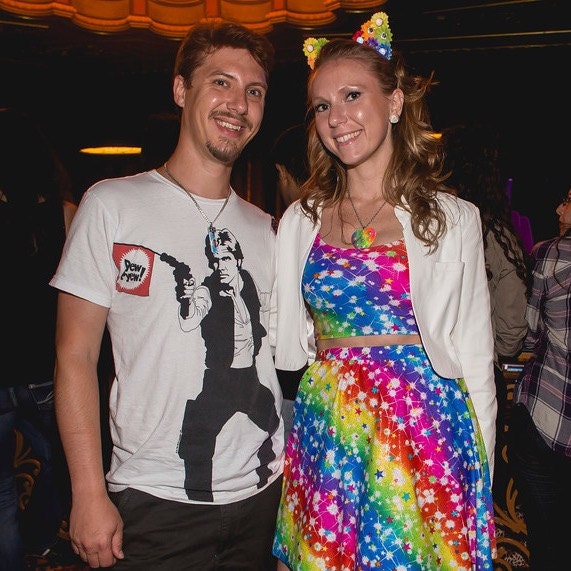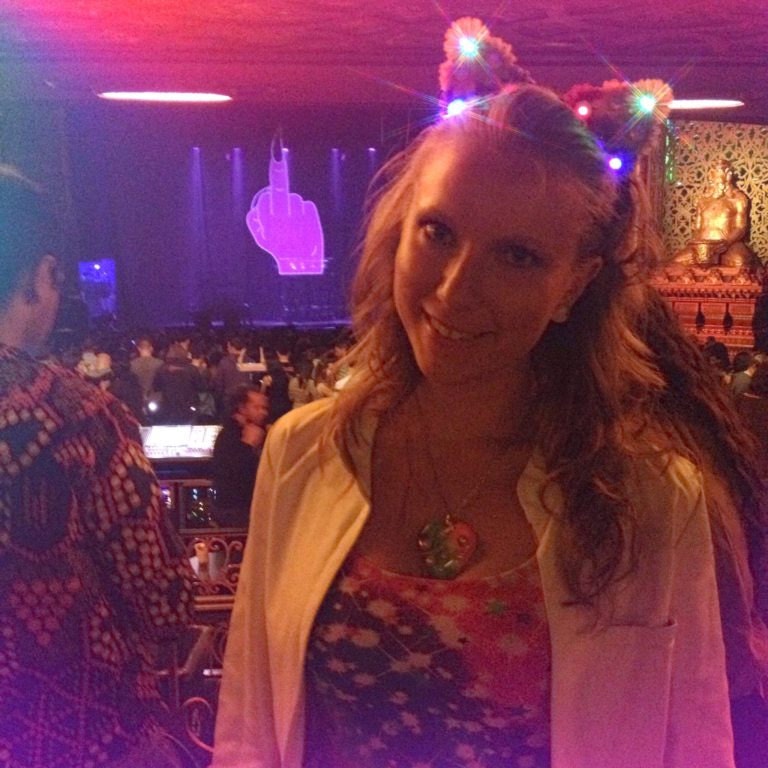 Where Can I Find Rave Fashion?
I have found that unless you make something yourself, you need to shop from very specific boutiques or with skilled designers to create your desired rave wear. To get started, below are a list of AMAZING online boutiques and designers to check-out to complete your rave outfit.
LED Light Flower Crowns / LED Light Headbands / LED Wear:
Accessories:
Clothing:
Backpacks, Fanny Packs, Masks: