For my April 2017 Blog Post I absolutely needed to write about festival fashion and styling! Starting every spring through summer, people will make their way to a music concert or outdoor event / festival of some kind. These events symbolize the gathering of a carefree generation and the festival fashion / styling reflects the free spirit inside every festival attendee.
What is "Festival Fashion"?
Festival fashion and styling is often characterized by loose-fitting clothing, vintage accessories, floppy brim hats, lace garments, mixed metal jewelry, florals, sandals or boots, shawls, shorties, crop tops or nostalgic graphic tees and more. People also refer to this type of fashion and styling as hippie-chic, bohemian or BOHO.
Styling Your Festival Look
The main thing to remember when putting together your festival fashion is that it should look carefree and laid back. Anything worn that is too structured or "matchy-matchy" is outside of what makes festival fashion noticeable. For example, dressing in a suit or a "preppy-styled" outfit would not be considered festival fashion.
Typically, muted color tones have been the staple of festival fashion, but in recent years, I have seen a surge in bright colors, neons and pastels in festival fashion. I always recommend that no matter what type of fashion genre you are attempting to wear, always style for your unique coloring – just because everyone is wearing black to a concert does not mean you should as well since black may not be a good color tone for your complexion. If you need help with choosing your colors to style your festival fashion, please read my blog post "Styling for Your Coloring" by clicking HERE.
To give you some ideas for styling your festival fashion, below are a few pictures from our Kitty Katrina photoshoots. These images feature loose-fitting clothing, bohemian prints, mixed metal jewelry with precious stones (courtesy of ShopGiGiStone.com), funky sunglasses, moccasin boots, flowing shawls / kimonos, halter / bikini tops and of course, my very own floral hair accessory designs are seen in every picture.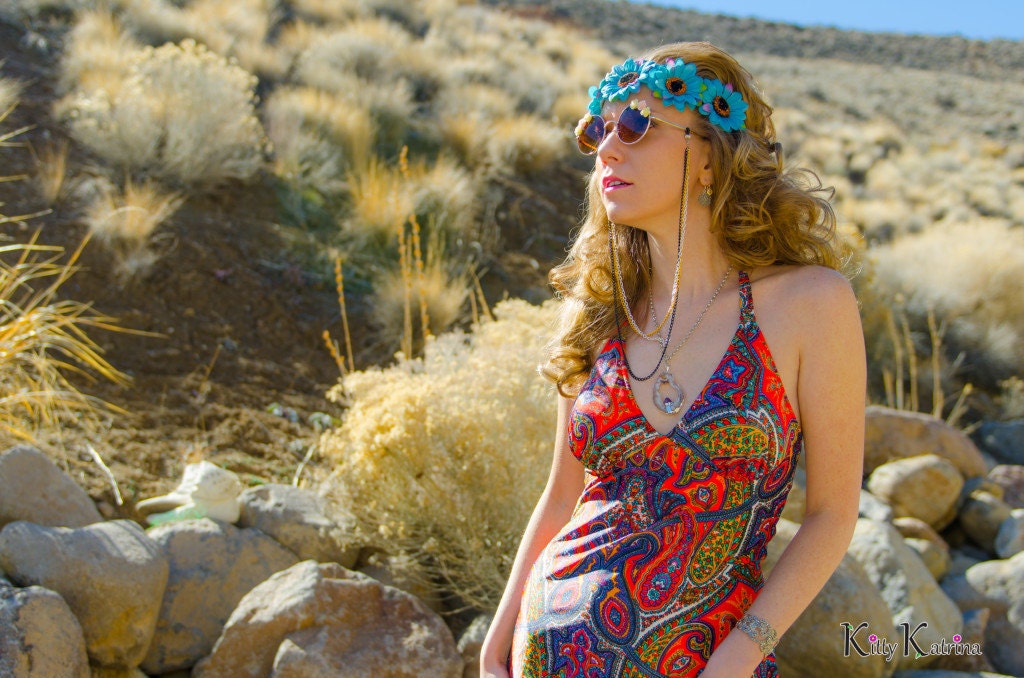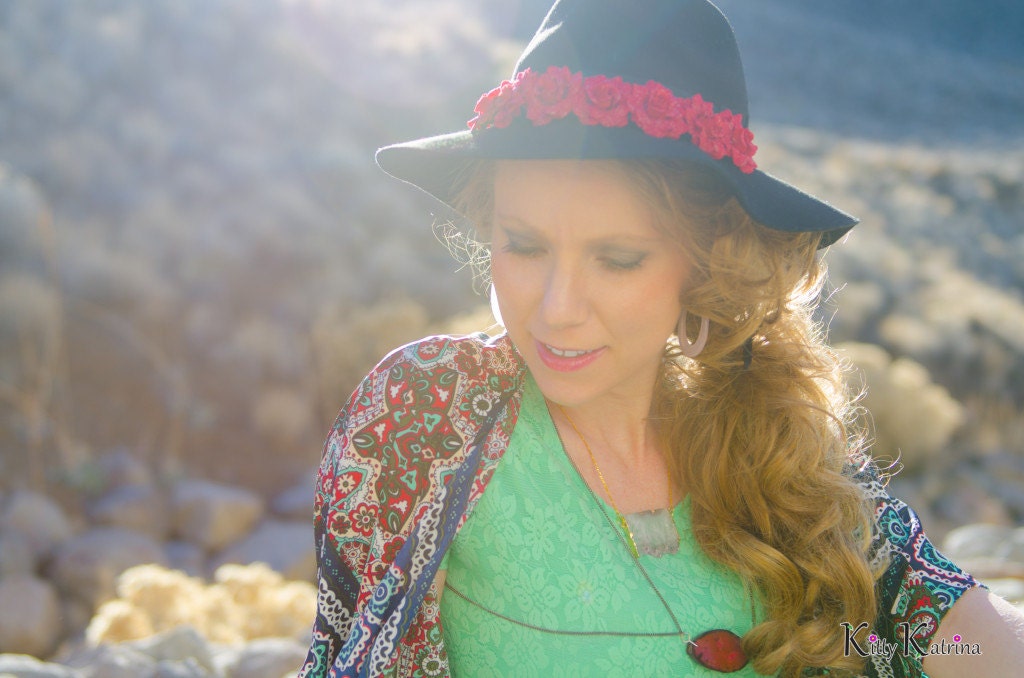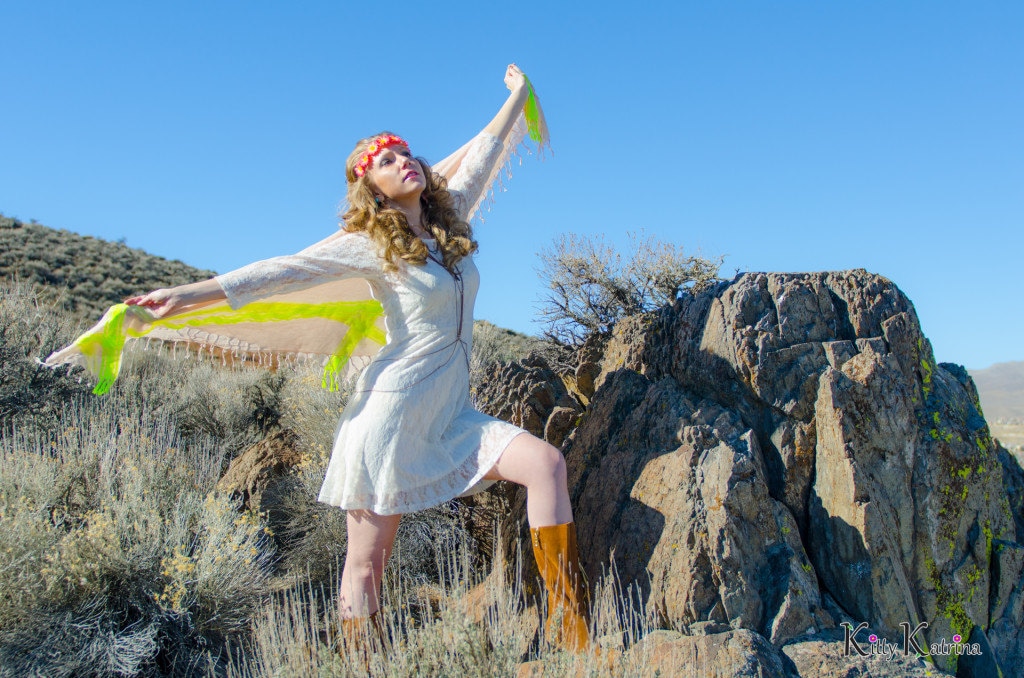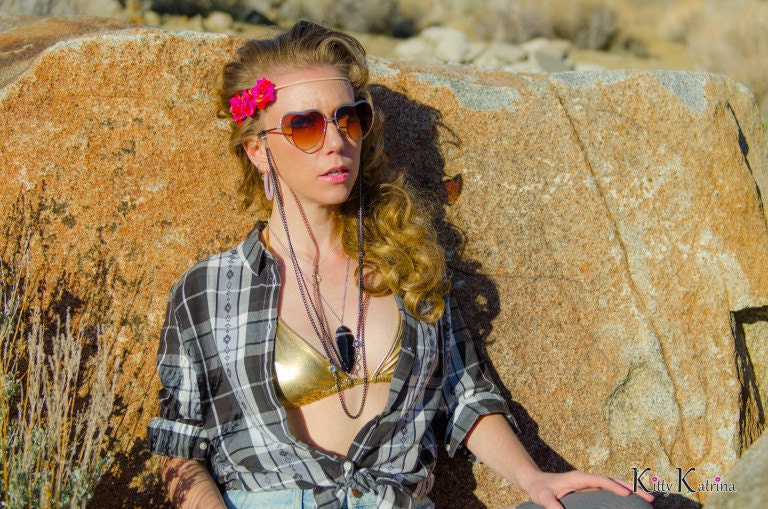 Where Can I Find Festival Fashion?
EVERYWHERE! Usually starting in April you will be able to shop for festival fashions at almost every store, boutique and online merchant. But, before you go on a crazy shopping spree, I advise sifting through your own collection or asking an older relative / friend (possibly someone who was a flower child during the 60's and 70's), if they have any vintage items you can borrow. This is the core of what makes styling festival fashion fun – wearing old / vintage items from the past.
For example, in the top image above, the halter top dress with the bohemian / paisley print was actually made by my mother during the 60's and she passed it along to me to wear. So, your festival fashion does not need to be brand new – it can be a treasure from another generation (also making an interesting conversation-starter as well).
If you are looking for new items to complete your festival fashion, below are a list of my absolute FAVORITE designers – I personally wear their items during (and outside) of festival season and always receive many compliments. 
Jewelry:
Floral Hair Accessories / Flower Crowns:
Clothing: