For my March 2017 Blog Post I had to write about a topic of fashion and styling that is not only a personal obsession of mine but is also a huge trend among all fashionistas – DisneyBound fashion and styling!
This post is actually perfect for March because now is the time people are planning their magical Disney vacations. Whether you will be visiting Disneyland, Disney World, Disneyland Paris, Disney Cruises, etc – a true Disney fan will always want to style themselves in the cutest Disney clothing and accessories to make their trip memorable.
What Does "DisneyBound" Mean?
"DisneyBound" means your fashion and styling will represent an aspect of Disney that is meaningful to you. For example, let's say you absolutely LUV the attraction "It's a Small World" at Disneyland (who doesn't, after all), then your outfit and accessories worn could reflect various aspects of this attraction.
Styling Your DisneyBound Look
Wearing a DisneyBound outfit does not necessary mean that you wear a character costume, although you can if you wish. One thing I have learned by being a Disney fan over the years is that Disney appreciates the little details. So, your outfit does not need to be over-the-top – it could highlight small aspects, such as a Disney-themed watch, earrings, a t-shirt, socks, etc.
On the other hand, dressing in an extravagant outfit that SCREAMS, "I am a Disney fan!!!!" is so much fun as well! And in my opinion, this is where styling your DisneyBound fashion becomes fun.
For example, I adore Minnie Mouse – everyone does! BUT, on a daily basis, I usually wear certain fashion genres, such as Punk, HiFi or Kawaii.
Therefore, when styling my Minnie Mouse DisneyBound fashion, I would naturally want to incorporate a fashion genre I wear regularly, such as Punk, HiFi and / or Kawaii, into my Minnie Mouse fashion.
Below is a picture of my Minnie Mouse DisneyBound fashion that incorporates my LUV for the Punk, HiFi and Kawaii fashion genres…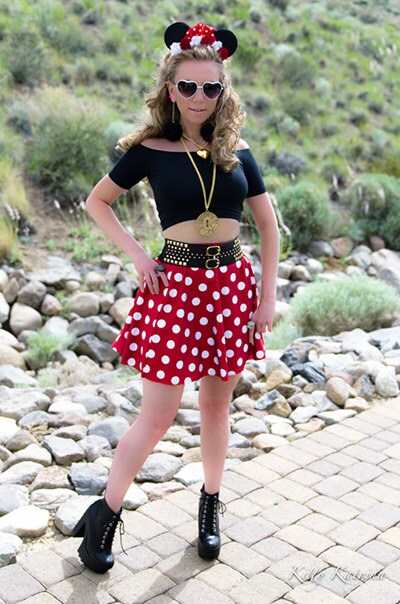 To bring-out the Punk fashion genre in my Minnie Mouse look I used a high-waisted skater skirt from Poprageous.com that features the Minnie Mouse red / white polka dot pattern; black platform boots from ShiekhShoes.com; a gold studded leather belt from BEBE.com, and hot pink spike stud earrings from KandiKookiez.
To incorporate my obsession for HiFi fashion, I included two pieces of custom gold jewelry from ShopGiGiStone.com (one with a heart pendant and the other with a keyhole pendant), and a black off-the-shoulder crop top from AmericanApparel.com.
Because I adore Kawaii fashion, I added black pom pom drop earrings and white heart sunglasses to my Minnie Mouse DisneyBound style.
Of course, NO DisneyBound outfit is complete without a hair accessory, so I incorporated one of my own, Kitty Katrina hair accessory designs – my Red / White Mouse Ears Headband featuring red / white silk roses and a red / white polka dot bow.
As you can already see, I am not attempting to look exactly like the traditional Minnie Mouse character but that is the point of styling your DisneyBound fashion – to represent an aspect of Disney in a unique way while also expressing your personal style.
Where Can I Find DisneyBound Fashion?
It's EVERYWHERE! You don't have to look too hard to start building your DisneyBound clothing / accessories collection. In fact, you can incorporate clothing and accessories from designers that do not, specifically, design for the traditional Disney fan but yet, their items will fit your unique DisneyBound style.
I will advocate that when gathering your DisneyBound fashion pieces, I would definitely recommend independent shops because 1) they will have the MOST unique items, whether they are Disney related or not, and 2) they often take custom order requests to make you something that is one-of-a-kind.
To help you get started, below is a list of some of my FAVORITE designers / independent shops that are equally obsessed with making DisneyBound clothing / accessories. 
Further, many of these designers LUV custom work, so if you have an idea for your DisneyBound look – contact them to see if they can help make your DisneyBound dreams come true!
Clothing:
Shoes:
Jewelry:
Mouse Ears / Inspired Flower Crowns: