For my December 2017 Blog Post I wanted to share how Kitty Katrina gives back during the holiday season!
Growing up, like many people in this world, my family struggled to make ends meet and could not afford elaborate holiday celebrations or gifts. Even so, my family always found a way to give to others during the holidays since, while this season is very festive for many, it can also be a very depressing and lonely time for others.
One of the ways we gave to others during the holidays was to host potluck parties where friends and family would bring food and games to share with all guests. My mother and I would make canned foods and cookies or sew gifts to give to family members as well, which is most likely the source of my desire to make items by hand :)
These experiences taught me that during the holidays – the gift of giving whatever you are able to give makes a huge impact for the recipient.
As I grew-up, my family and I continued this tradition of sharing wonderful handmade gifts and food treats; however, I really wanted to extend the gift of giving beyond my immediate family and close friends.
I began searching for an outside "cause" that I could give to during the holidays AND year-round. I wanted it to be a "cause" I truly believed in and was passionate about as well.
Eventually, due to health issues, my doctor recommended I obtain a service dog to assist me. I did LOTS of research on this process and it resulted in adopting and training a rescue dog named Pixie to help me.
Pixie was not only a wonderful service dog from the beginning but also, she taught me that animals, of all kinds, are loving and intelligent creatures that need love in return but, for the most part, are neglected in many ways.
Because of Pixie, I became involved in many activities that supported all animals, including donating to groups that promoted laws that would better protect animals.
Later, I adopted a second service dog named Nala to perform another task for me. Nala was also a rescue dog but she had been abused before she came to live with me. Because of her past, Nala was not easy to train but I knew she deserved a chance (and love) too.
Pixie, along with extensive outside training, helped Nala become an amazing service animal and a creature that recovered from a past of pain and neglect.
Pixie and Nala have showed me that not only could they learn tasks to aid someone but they are genuinely caring creatures that want and need to be loved as well.
Regardless if the animal performs a task to aid an individual, all animals deserve to be loved and cared for – just like people.
It was because of my experiences with Pixie and Nala, as well as being involved with groups that support rescue animals and animal rights, that I found the "cause" I wanted to give to and serve. 
Below is a picture of me with Pixie and Nala. Don't be fooled by their small size - any dog that can be trained to perform a task that medically aids another can become a service dog. Even if an animal is not a trained service animal, they are wonderful companions and family members that need love and protection.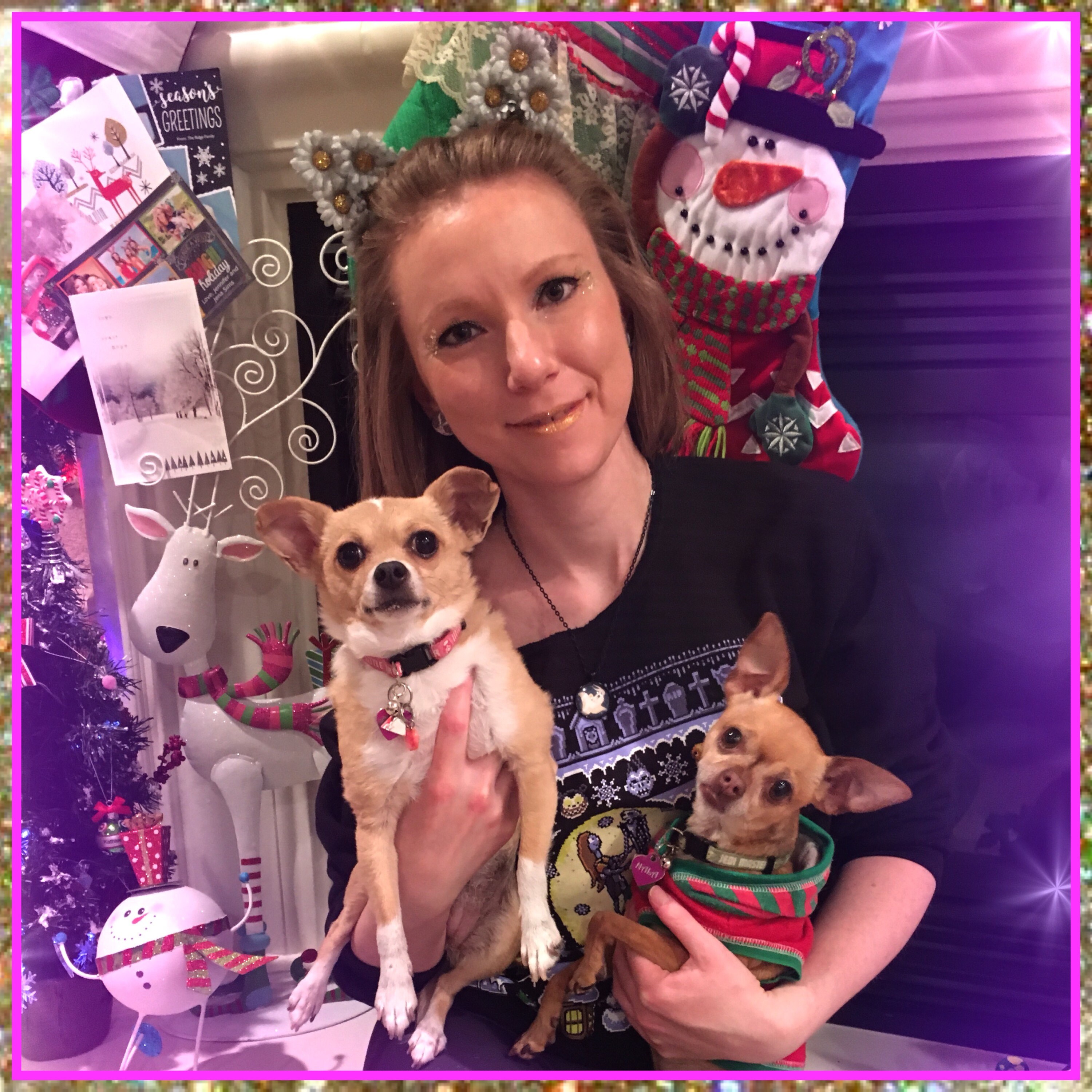 After I started Kitty Katrina, I decided to donate a percentage of our yearly profits to help rescue animals and animal rights groups, and while we are a small business, we are very proud to share that we have made our donation every December since 2013 to help animals.
Therefore, when you purchase an item from KittyKatrina.com, you are not only supporting a small business – you are supporting animals in need. 
We primarily donate to the Nevada Humane Society, which is a "no-kill" shelter in our town that needs all the support it receives to bring food, bedding and medical attention to the animals they care for while they await their forever-home.
While I have no way to prove this action on our part, I realize writing this article is not hardcore evidence of making our donation, I still wanted to share my story for the holidays in the hopes that it will inspire others to give to those less fortunate in any way possible.
You don't need to donate money alone…giving bedding, clothing, food, etc is ALL helpful to those in need, including animals. Volunteering is also another wonderful way to give to those in need, such as volunteering at an animal shelter.
Tis the season to be giving and spread peace, joy and above all…LUV!
Thank you for reading and have a wonderful holiday season!
LUV,
Kitty Katrina