For my October 2017 Blog Post I wanted to write about dressing-up for Halloween – as an "adult"!
What do I mean by this? Halloween is fun for ALL ages because all ages have fun dressing in costume for this holiday.
But sometimes, older individuals want to dress like "adults" for Halloween and here is what I mean... 
Costumes That Look Like Everyone Else
I always consider Halloween to be a fun time of year to dress in clothes that express a side of my personality that people do not see the rest of the year.
And while I often want to express the mermaid or unicorn side of my personality, I find that MANY other people are already planning to dress as a mermaid or unicorn for Halloween – drat!
Personally, I don't like showing-up at a party only to realize that I am just one of five other mermaids there…
This is why I like to "adult" for Halloween sometimes and generally, there are two ways to "adult" for Halloween – Cosplay or Reality.
Cosplay
Cosplay is about dressing-up as ANY character / personality / theme that comes from our culture, and sometimes the best cosplay costumes are obscure ideas that people know about but might have forgotten over time.
One Halloween, myself and several friends cosplayed as the Spice Girls. If you don't know who the Spice Girls are, there were a female pop music group in the 90's / early 2000's that had several hit songs, including their own movie, Spice World.
I dressed as one of the singers from that group known as Baby Spice. What made the experience fun was going with my friends to thrift stores to find clothing from the 90s to wear and cosplay as the Spice Girls group.
When we arrived at the Halloween party dressed like the Spice Girls, everyone thought it was a fabulous idea! We even sang several of the Spice Girls' songs, which added to the fun effect of our cosplay idea, and the other party guests thought it was immensely entertaining to watch a group of people impersonate these celebrities.
Therefore, cosplay can be a great way to "adult" for Halloween, and it allows you to dress as characters / personalities / themes who are great conversation starters at parties.
To get started on your cosplay costume, think of your favorite movies, books, comics, celebrities or almost anything you enjoy and is a part of everyday culture. The idea for your cosplay costume can be as noticeable or obscure as you like. 
For example, perhaps you really like the character Mia Wallace from the film Pulp Film – dress like her.  Or maybe, you are a huge fan of photos of sunsets – dress in sunset colors and hold an empty picture frame in front of your body…people will definitely be interested to know who or what you are for Halloween!
Below is a fun picture from that night me and my group of friends cosplayed as the Spice Girls - I am on the LEFT in the white faux fur jacket. I will always LUV how our friend, William, dressed as Scary Spice and wore a black bra (MIDDLE)...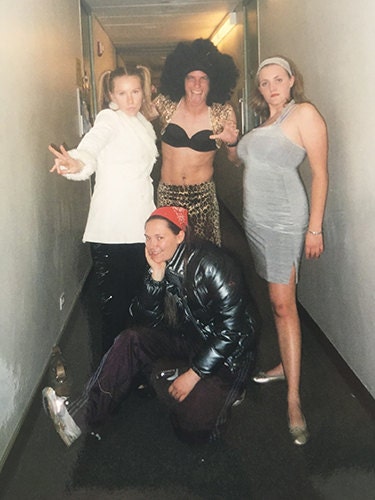 Reality
Sometimes, using reality or clothing you see if real-life can be an excellent way to "adult" for Halloween as well, such as wearing a gown or a vintage outfit.
Every era of history has its own distinct fashion and it can be fun to dress in an outfit that was seen / worn by people in real-life from a specific era, vintage or modern, and also expresses a character / theme.
For another Halloween party, my husband and I are fans of the film "The Nightmare Before Christmas," and we decided to wear 1950s / gothic clothes that featured Jack Skellington print on the fabric. 
You can see Jack Skellington's face on my husband's suit, while my dress is black velveteen with Jack's face outlined on the fabric, making it a little hard to see in the picture of us below but you will notice the obvious 1950s / gothic influence of our outfits...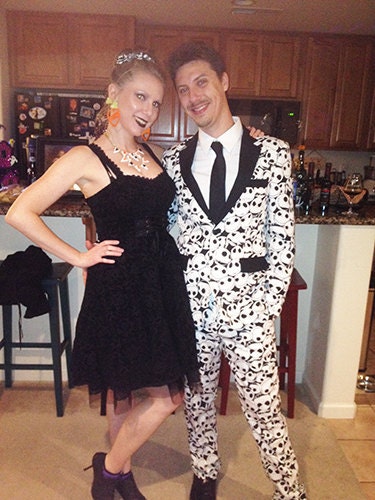 With the exception of the print on the fabrics, our outfits above do not look like costumes - they look like clothing you might see on everyday people from the 1950s.  
However, these outfits were still a lot of fun to wear and other party guests found our love for "The Nightmare Before Christmas" and vintage clothing very entertaining! 
I also wore my Jack Skellington Flower Crown around a hair bun and handmade jewelry from one of my favorite Etsy Shops - I'm Your Present - to help complete the styling of my vintage outfit.
To get started on your reality costume, try looking at the clothing you already have and see if you start to recognize a character / theme within your own closet. 
For example, perhaps you wear a lot of green – in that case, try putting together an outfit with your own clothing that represents a character or theme that also uses a lot of green, such as a leprechaun or Tinker Bell. 
Or maybe you are a collector of vintage clothing, again – look at your selection of vintage clothing to see if a character / theme starts to formulate.
Tips and Tricks
One big piece of advice I like to stick to when pulling together my "adult" Halloween outfit is to stay away from costume shops, at least in the beginning.
When I go into a costume shop, I am tempted to buy a costume that is ready-to-wear and in my opinion, this steals part of the fun of "adulting" for Halloween - forming a unique idea for an outfit that you pull together yourself from what you already own.
For example, my husband and I go to many music festivals / raves to promote my flower headpieces, and because of this, we wear / own a lot of festival / rave clothing. 
So, for Halloween 2017, we decided to re-use some of our matching rave outfits that were made of golden fabrics and dress as golden butterflies!
Since we are re-using outfits we already own, we are only adding golden wings to these outfits and I am designing / creating golden butterfly / flower masks to wear on our faces.
If after looking at your closet you realize you are missing a few pieces to pull your "adult" Halloween outfit together, then I suggest looking online or in small boutiques, especially small businesses, because there you will find unique pieces to complete your outfit!
I also like looking at accessories to help complete my outfits more than clothing. In many cases, I find that a great accessory, small or large, it sometimes the ONLY item needed to make an "adult" Halloween outfit perfect, such as a hair accessory, purse, necklace, gloves, tights, shoes, etc.
Personally, I always complete my outfits with one of my flower headpieces / accessories because not only does this express my personality but it's a unique way to finish an "adult" Halloween outfit.
View the below sections of our online shop for fabulous flower hair accessories that might help complete your "adult" Halloween outfit!